Check out Kord Campbell's killer rig, complete with four monitors, at least two computers, two keyboards, an iPhone and an iPad.
Now, I don't necessarily believe that multitasking is a bad thing, nor do I agree with Nicholas Carr and his assertion that the internet is ruining our ability to think.
I do believe, however, that multitasking and the ready availability of always-on, always-connected technology adversely affects my quality of life in many ways. And I do believe that I personally do not have the faculties necessary to deliberately manage these multiple, constant threads of information on my own.
Thus, my retreats into the woods. Externally-imposed isolation, where connectedness is not an option, is a very different beast than self-imposed isolation, and one I am far more fit to manage.
So, when I look at Campbell's rig, I do not see it as an ideal to which to aspire, nor do I see it as a symbol of a computer-mediated life gone to horrible extreme. I simply see it as one person's elaborate setup, their attempt to deal with the deluge of modern information, and I find it valuable and fascinating in its own right. I am here to observe, to sense-make, not to judge.
Really, I believe a focus on the number of screens misses the point, and what I find most interesting is the ecosystem that Campbell has created for himself.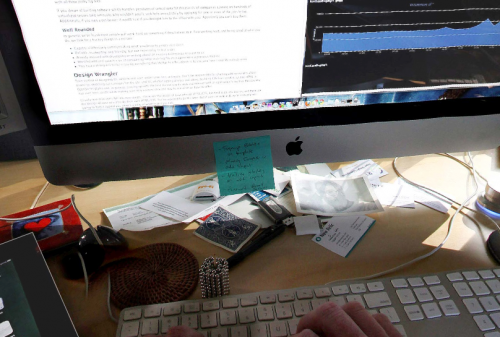 Most poignant for me is the lowly Post-it Note, hanging off his primary monitor, front-and-center. For all the screens, all the software, the physical and spatial world was still implicated to record, display and remind Campbell of a few pressing tasks:
Signup breaks on template
Missing [frigge?] in add input
Trailing slashes on add input
Password reset issues
All recorded with pen and Post-it, and slapped up front on a 27″ monitor.
For all our screens, the physical, embodied world still holds significance and its own, rich meanings.